Speech therapy by teletherapy is now the new normal. Here are some online essentials to make everything a little bit easier.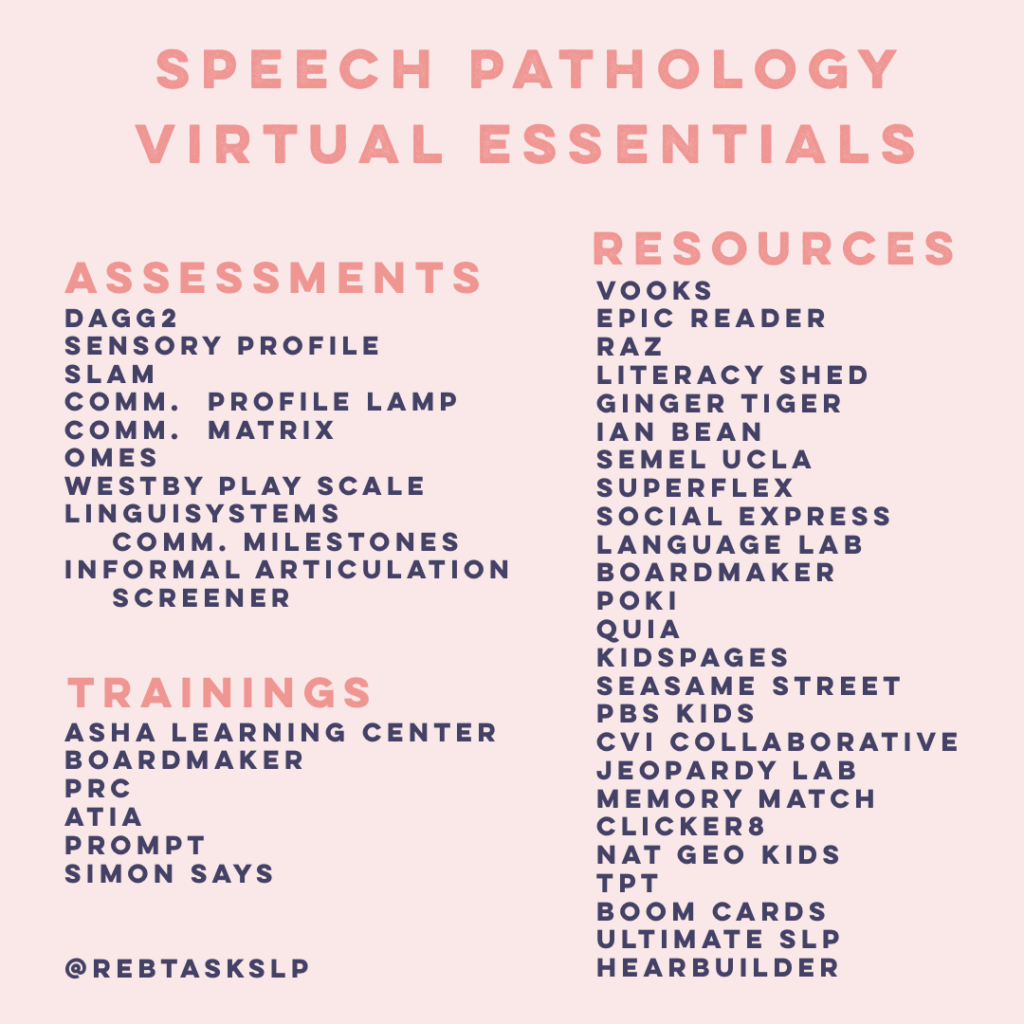 Assessments
Trainings
Resources
VOOKS

Vooks is an online library that is loaded with kid approved storybooks. It's available on all your devices and is perfect for storytime with your little one! Think of it as the Netflix for kid books! It has both a read along option and includes a video portion with animation!

Epic Reader

Epic Reader has almost everything under the sun for ages 12 and under. It has books, videos, quizzes and even some Spanish! It's free for educators, but only $7.99 / month for parents! They are currently offering free remote services to students if their teacher has an account! The books have a read to me component as well!

Raz

Raz Kids has over 400 books that could be listened to, read and the students can even record them telling the story! It's available on all your favorite devices and has books in 29 different levels for K-5 reading! They are even offering free access right now for the rest of the school year! Each book also comes with Quiz to access reading and listening comprehension!

Literacy Shed

This website is loaded with short videos that teach valuable life lessons. The website even has a section where it allows the speech-language pathologist or parent etc to ask questions to the child! The "teaching activities" section is beneficial for online and distance learning to maintain and gain important skills and knowledge!

Ginger Tiger

Flexible games and activities that were designed for special learners. Topics that are covered include cause and effect, basic skills, math, speech & language and language arts.

Ian Bean

FREE online assistive technology resources for switches, touch screens, pointing devices and eye gaze.

Semel UCLA

The Semel Institute for Neuroscience and Human Behavior at UCLA has created some of the best videos for speech therapy with topics like learning social skills, especially with friend making and keeping strategies. Their PEERS curriculum is the only evidence- based social skill program and can be purchased online and is in practice all over the world. The videos use easy to understand language that is realistic and applicable for learning social skills through online videos.
The Institute also has other great resources in the area of social skills including curriculum books and in-person programs!
The Book:

https://www.amazon.com/PEERS-Curriculum-School-Based-Professionals-Adolescents/dp/041562696X/ref=sr_1_1?dchild=1&keywords=peers&qid=1587943431&sr=8-1
https://www.amazon.com/PEERS®-Young-Adults-Training-Challenges/dp/1138238716/ref=sr_1_3?dchild=1&keywords=peers&qid=1587943431&sr=8-3

SuperFlex

Social Thinking Curriculum for teaching kids self regulation and flexible thinking abilities.

Social Express

Interactive and fun lessons to learn how to manage real life situations. Each program is designed to teach important social emotional skills that are needed in daily life.

Language Lab

Provides real life solutions to support language development for SLPs, educators and parents. They are currently offering a two month subscription for free!

Boardmaker
POKI

All you favorite game apps, online! These are great as reinforcers in therapy or as a fun way to conduct therapy. They are perfect for online speech-therapy because they are available in the app store and on this website!

QUIA

This website allows you to create your own learning games in any topic you dream. There is also a database where you can explore others activities and quizzes.

Kid Spaces

The Kid Space Museum may be closed, but it's always open online! They have tons of activities to do and even mini science experiments!

CVI Collaborative

Developed for those with CVI to recognize what they see based on the salient features of the object. They have several different vocabulary words that all have linked salient features in a downloadable PDF.

Jeopardy Lab

America's favorite gameshow, but in your therapy session. Make therapy fun by making a jeopardy game to play with your clients on any topic you desire!

Memory Match

Create a completely custom matching game by using your own videos, pictures or symbols. This resource is completely free and can be played on any browser.

Clicker8

Clicker 8 is Microsoft Word, but better for children. This software allows students to write with pictures, phases and much more. It's currently available for a free so you should definitely check it out!

TPT

The holy grail for online materials. Made by teachers, speech-language pathologists and everyone in-between. Instant downloads and affordably priced resources on almost anything that you can imagine.

Boom Cards

Boom Cards are a great tool to use during teletherapy to learn inferencing. They can be made quickly and tailored for a specific situation and setting. They allow an interactive method for learning via a digital deck of cards that provide feedback. I have created simple and free decks that are amazing to use with a variety of clients. They are great for narrating social stories and social scripts and are flexible and easy to use.

Ultimate SLP

Quoted at the "Best Ever Speech Therapy Materials". An online library with every resource (board games, social scene pictures, interactive games) that you could imagine for only $12.95/ month.

HearBuilder

Online literacy program that targets following directions, phonological awareness, sequencing, auditory and memory skills that are all aligned to state and common core standards for each state!
If you have any must haves for online therapy, let me know! I would love to add them to this post!