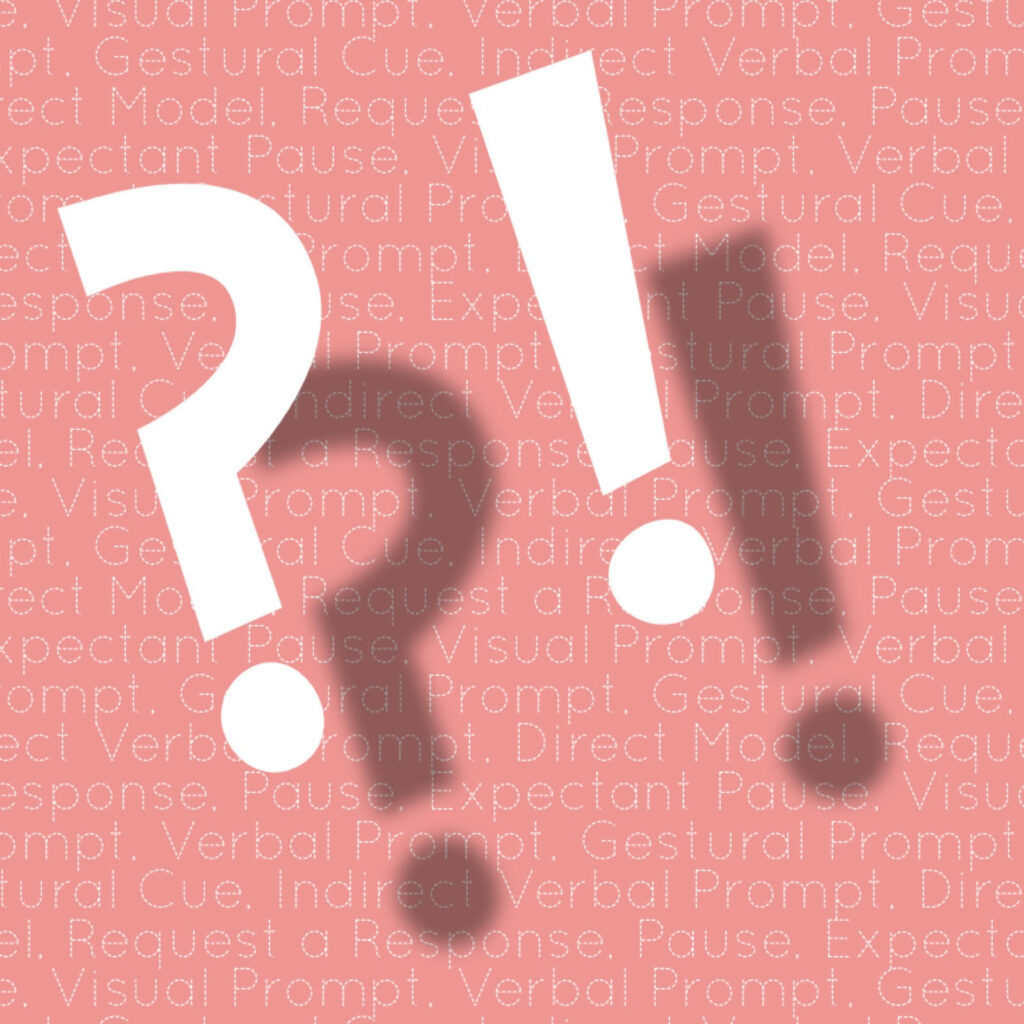 What has become very clear to me is that before any online speech therapy session I MUST go over with family member that is sitting with the child a prompting hierarchy that is tailored for the child. If not, this is what happened to me on one of my first ever teletherapy sessions.
Rebecca "I see a little duck what do you see" I wait, knowing my therapy goals is to let him process what is being asked of him (AKA Expectant Pause, Step 1, following the Prompt Hierarchy Below)
Child: Doesn't answer, but jumps up and down for 3 seconds.
Mom: "Respond to Rebecca, what is going on with you, sit down, what do you see!????!!"
And this keeps going on over and over. It happened because I didn't go over with mom what my therapy and growth expectations were for the child in that session. I failed to realize the child and I were not the only people in the session! I didn't explain the steps of a prompt hierarchy for the child to mom. Because the child was cut off, it didn't allow me or the child an opportunity to figure out expected waiting times. It also doesn't allow me to properly use my training to go through prompts to help the child respond and help him grow. It was is a disservice to the family's time and schedule and on top of it everyone was getting frustrated.
Knowing that the child in this example had trouble with receptive and expressive language, I KNOW he couldn't answer my question and that he needed some support, but I why did I think that Mom was a mind reader and knew my expectations on how to help, she was doing what she thought was best, right?? I had to fix this quick. I paused my lesson and pulled up the AAC Prompting Hierarchy (below). I explained it to mom, and where he was at, telling her I knew it was a bit above his receptive and expressive language level, but I phrased it like that to use it to help him dissect the question to help him grow from the task, sort of backwards chaining (technical term!) This next step was for me to allow mom to help me by explaining prompts that WOULD help. For example, behavioral prompts "sit in your chair" "pay attention" and not so much prompts related to the communication task during that lesson. I also worked with mom to use prompt strategies I was using during lesson to help at home with expectations in communication.
The outcome of this, was mom being grateful to have a strategy to use at home, the child growing in therapy and me feeling like therapy was moving in the right direction from there on out! I will say, the one VERY hard part about starting teletherapy for the first time, is that I really had no time to prepare, and had to kind of think on my feet, but lesson learned. What have you learned? How have your grown? Happy teletherapy!