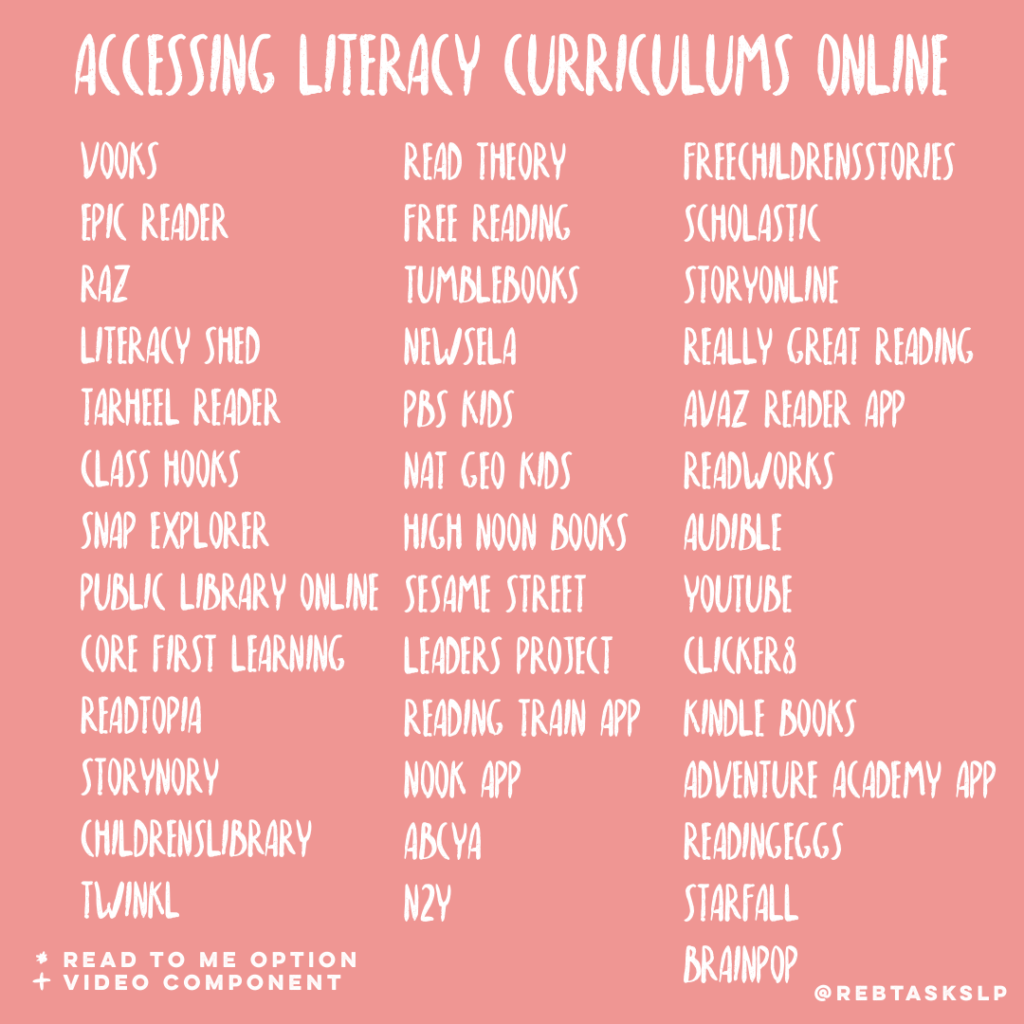 *read to me // + video
Literacy development results in advancement of our reading, writing speaking and listening abilities. We use literature, in teaching to take concepts from literature and apply them to real life. Therefore it is important we don't stop teaching literacy to our young ones. Literacy online can be something fun for the entire family especially while we are all social distancing. I have cultivated over 35 online resources that are perfect so many ages and abilities, and they are all completely online. Some have small subscription fees, while others are completely free and or have a free trial. The internet is full of so many different resources to pull information from, but here are some of my favorites:

Vooks * +

Vooks is an online library that is loaded with kid approved storybooks. It's available on all your devices and is perfect for storytime with your little one! Think of it as the Netflix for kid books! It has both a read along option and includes a video portion with animation! Vooks also has lesson plans and take home that are included.

Epic Reader *

Epic Reader has almost everything under the sun for ages 12 and under. It has books, videos, quizzes and even some Spanish! It's free for educators, but only $7.99 / month for parents! They are currently offering free remote services to students if their teacher has an account! The books have a read to me component as well and many have reading comprehension quizzes and carryover activities.

Raz

Raz Kids has over 400 books organized by reading level that could be listened to, read to and the students can even record them telling the story! It's available on all your favorite devices and has books in 29 different levels for K-5 reading! They are even offering free access right now for the rest of the school year! Each book also comes with Quiz to access reading and listening comprehension and tons of worksheets and carryover activities.

Literacy Shed *

This website is loaded with short videos that teach valuable life lessons. The website even has a section where it allows the speech-language pathologist or parent to ask questions to the child! The "teaching activities" section is beneficial for online and distance learning to maintain and gain important skills and knowledge! The videos are loaded with life skills lessons and all have morals and take home messages.

Tar Heel Reader *

Tar Heel Reader is completely free and is available in a variety of topics. The books can be read aloud or adapted to alternative methods, it is great for AAC users. If you are feeling inspired by these, you can even write your own!

Class Hook +

Class Hook is another amazing online resource that takes popular TV shows and movies and turns them into educational products. The website is organized into different topics and subjects such as Math, English etc; but my favorite is the Social Emotional Learning section. You can even search based on grade level so you know that you are getting the best videos for your child!

Snap&Read *

This might be one of the most amazing new websites. This website takes any article and turns it into something that can be read aloud and can change the vocabulary to make it more reader friendly! It also has the ability to save text into an outline and give picture support to words that children may not know. It works on Google Chrome, iPad, PDFs, Kindle, Bookshare or directly on the website!

Public Library Online *
Core First Learning *

These books from Tobii Dynavox are designed to teach core words. This set comes with many books that teach the core words: go, want, more, stop, not, I, you, it, is, can, do, and like. These unfortunately do not come in a digital option, but can be purchased online and are currently free with a trial.

Readtopia * +

Designed for teachers who work with those students in middle and high school with autism and other complex needs! The curriculum not only has english, math, social studies and science, but also has life skills which are great for targeting social skills!

Storynory *

Storynory is a free resource that allows an audiobook to be played along with an audio transcript! The stories range from classic fairy tales to poems and music! These are great for anyone and everyone!

Children's library

The online Children's Library is a virtual look into any and all children's library books. The entire website is free and they have both fiction and nonfiction books from age three to thirteen!

Read Theory

This website is completely free and provides comprehension exercises for K-12 students! It's even perfect for teaching English as a second language.

Tumblebooks + *

Tumblebooks is a database that is available to Elementary schools and public libraries to gain over 110 titles for grades K-6 with both animated picture books, chapter books and even National Geographic videos!

Clicker8 by CricketSoftware *

Clicker8 is a tool that makes curriculum content accessible for children who have complex learning challenges. They have a wide variety of resources to supplement learning online and offer a lot of support and guidance from set up to implementation.

Newsela

Newsela provides videos on a range of topics for every learner. It can be taught at five different reading levels and uses education standards!

PBS Kids * +

A classic for a region! PBS has a variety of videos and games that are great for children! They even have daily activities that are beneficial to do with your child while at home!

National Geographic Kids +

National Geographic has videos and articles that are perfect for improving literacy from the comfort of your own home! They have content ranging from mammals to birls to space (and everything in between).

High Noon Books

High Noon Books has everything under the sun! From phonic based to short stories to eBooks and Audiobooks. The website is organized into different grade levels and has affiliate links to Amazon, Audible, Barnes & Noble and iBooks!

Sesame Street * +

Sesame Street has videos and printables with all of our favorite characters! They also have several ebooks that are great for building literacy.

Leader's Project

The Leader's Project is the home to the SLAM cards which are great to elicit literacy. The SLAM cards are great to provide a quick and easy literacy lesson. Each deck also comes along with several questions that are great for facilitating learning!

Reading Train App *

This app has over 200 picture books that are available in three different reading levels! There are some in-app, subscriptions but right now the alphabet books are free for remote learning!

Nook App +

Nook, is Barnes & Noble's online reading platform! There are both the reading app and the audiobook app which are perfect for online learning. Practically every book could be purchased on here and at your fingertips in seconds! Right now they are offering free access!

ABCYA * +

This website is a lot of fun! There are hundreds of videos ranging from pre-K level to sixth grade with topics spanning grammar to unicorns. It is based on the Common Core Curriculum. There are also interactive games that can teach topics such as rhyming, syllables etc.

N2Y*

This website has several different components that can be purchased or trialed! My favorite component for literacy learning is NEWS-2-YOU which gives a weekly current event newspaper for learning.

Free Children*

This website is completely free and has tons of very age appropriate video storybooks. There are hundreds to choose from and sure to please.

Scholastic *

Scholastic has been around for 100 years and it's a true name in the publishing business. If you child missed out on his or her book fair, do not fret because you can join an online book club! For teachers, they also have the guided short story reading packs that come along with all the necessities for literacy.

Story Online *

Story Online is a platform where you can watch someone read a book to you! They are constantly adding new titles and even have featured videos of the month!

Really Great Reading +

These are great for whole group learning, especially in your virtual classroom or therapy room! They are structured videos that last for about 28 weeks and come with ready to teach lesson plans.

Avaz Reader App *

Avaz Reader app is perfect to read independently if your child is struggling with dyslexia. Simply take a picture of any printed score and it will allow you to read it in a guided process. The app even has syllable based hints and pictures to encourage the reading!

Readworks

Readworks takes complicated articles and makes them perfect for your students! The content is for ages K-12 and is very simple to incorporate into online learning with their easy platform!

Audible *

Powered by amazon, get almost any book in an audio version! Audiobooks are a great way to incorporate reading into your child's daily life.

Youtube * +

Great resource for finding audio files of books or read along videos!

Kindle Books *

Powered by amazon, all books become digital and at the palm of your hand in seconds. Many books come free with your Amazon, subscription, so check out what you can access for free.

Adventure Academy App +

This website makes learning topics such as main idea and spelling fun with the addition of their fun characters! There is a paid subscription needed, but they always have sales!

Reading Eggs

This app teaches your child to read with interactive songs, characters, and animation! It's backed by research and the program includes over 2000 online books!

Starfall * +

Starfall is a collection of games and videos that teach children about language arts! From learning the sounds to learning numbers and colors; this website has it all!

BrainPop * +

Another classic for a reason. This website has so many videos that are perfect for any subject! These are perfect for virtual learning sessions but are also good for in the classroom! They even have a new addition of social- emotional learning!

Twinkl

Twinkl has TONS of online resources for a small membership fee! They have different age groups ranging from Pre-K to 5th grade and over 500,000 resources! There is also a free version that gets you limited, but still very useful items. The items range from take home packets to classroom decorations and everything in between!
If you think we are missing something great, let us know! We look forward to hearing from you! Happy Reading!