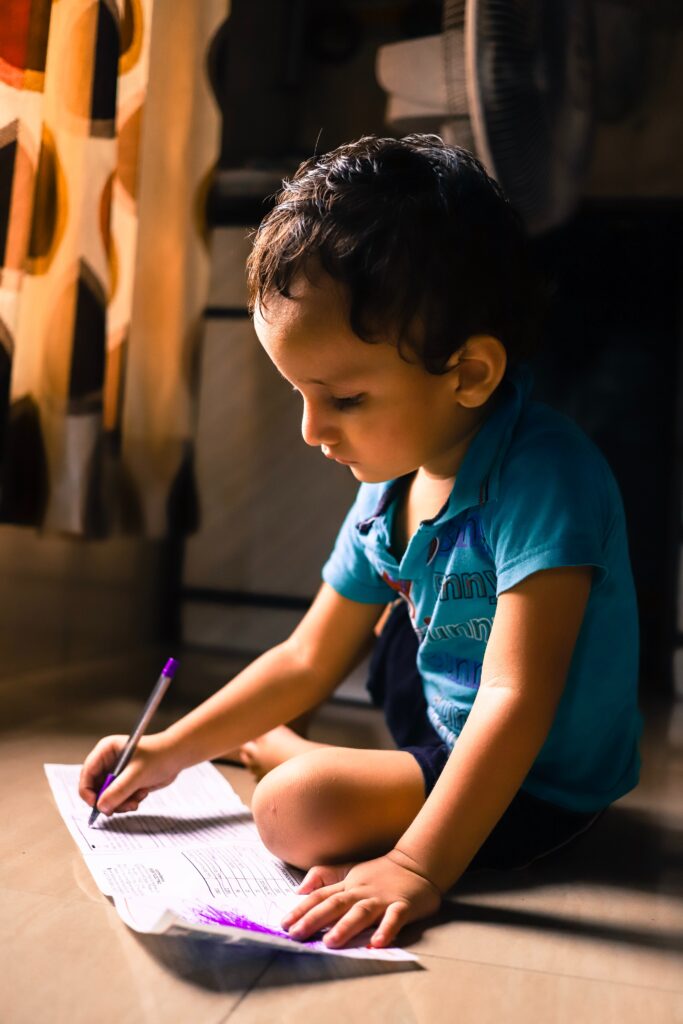 "Michelle ve tienda. ¡Caballo rápido!

De esta narrativa, ¿podría responderle al niño en una conversación significativa de ida y vuelta … probablemente no! ¿Cuántas veces has hecho esto para que otro adulto interprete de qué está hablando el niño?
"Oh, sí, hoy Michelle y yo fuimos a la tienda de comida y ella quería ir al juego mecánico de caballo de 25 centavos cuando nos ivamos, así que le compré un juego mecánico después de comprar para la cena. El juego mecánico se movia demasiado rápido para que ella se pudiera sujetar, así que la obligué a salir de él ".
La narrativa de dos oraciones del niño aún no es una narración clara y desarrollada. Si le dijeran que el niño tenía 24 meses, podría no estar tan preocupado, pero ¿estaría preocupado si el niño tiene 48 meses?
Puedes adivinar que esa muestra de lenguaje no parece típica para un niño de 48 meses con habla verbal. Los patólogos del habla usan muestras del habla de los niños para analizar las deficiencias del lenguaje y los retrasos del lenguaje. La complejidad del discurso durante una narración puede indicar el estado actual de organización del lenguaje del niño mediante el uso de muestras de habla. Es una pieza del rompecabezas que puede dar buenas pistas sobre lo que está sucediendo en términos de procesamiento y desarrollo del habla y el lenguaje.

Para evaluar sus fortalezas y desafíos del lenguaje, se captura una muestra hablada cuando un niño cuenta o vuelve a contar una historia. Por lo que se escucha y se habla, los patólogos del habla clasifican su etapa de narrativa de acuerdo con una de las seis etapas del lenguaje desarrolladas por Applebee (enumeradas abajo como referencia). Luego podemos trazar los desafíos del niño para planificar una terapia del habla y lenguaje significativa, respaldada por la investigación y orientada a objetivos.

A veces los padres me preguntan si su hijo bilingüe tiene un retraso en el lenguaje. ¡Junto con las pruebas estandarizadas, el tomar una muestra de idioma también es uno de los componentes en la evaluación para monitorear el desarrollo del lenguaje en niños bilingües también!

Modelo de desarrollo para habilidades narrativas Applebee, A. N. (1978):
Etapa I: montones (2 años)
Etapa II: Secuencias (2-3 años)
Etapa III Narrativas primitivas (3-4 años)
Cadenas desenfocadas (4-4 ½ años)
Cadenas enfocadas (5 años) Narrativa verdadera
References
Applebee, A. N. (1978). The child's concept of story: Ages two to seventeen. Chicago: The University of Chicago Press.

Ebert, K. D., & Pham, G. (2017). Synthesizing Information From Language Samples and Standardized Tests in School-Age Bilingual Assessment. Language, speech, and hearing services in schools, 48(1), 42–55. doi:10.1044/2016_LSHSS-16-0007