What is an Obi?
In short an Obi is a robotic feeding device that is making the lives of so many individuals more enjoyable. Because food is something that is said to bring people together, it is a very important aspect of life. This device brings the power of independent eating to those with motor challenges. It is a robot that sits on the table and allows the diner to enjoy a meal with those around them.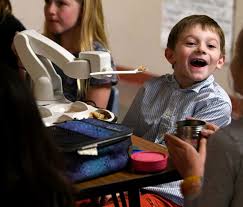 Who would need an Obi?
The users for an Obi range from someone that has ALS to someone who has a spinal cord injury. This device essentially is perfect for someone who still has the ability to feed themselves and swallow, but needs a little help getting the food there.

Why is the Obi different?
The Obi is different because it is one of the only devices that is fully functional and the diner controls the pace at which they each and everything about their meal. Once the food is placed on the tray, the rest is up to the diner. This is different because with other devices, someone else usually has to feed the diner, where in this case they control every aspect of it.

The Fine Print

How do you get an Obi and have it refunded by…
Private Insurance or Medicaid?
First you need proof of medical necessity that is in writing by an SLP, OT or MD.
Then you need a quote for Obi & the accessories that you would want. This is provided by Obi.
Lastly, you would need a doctor's order or prescription
Veterans Administration
Must be approved by the VA, or contact your VA to start the initiation process
Worker's Compensation
If the reason why you would like to use an Obi is due to an injury at work, worker's compensation may be able to cover the costs
School Funding
Schools sometimes have budgets that allow for specific assisted technology devices, like this one!
The best part is, they offer free trials! We can't thank them enough for developing such a unique system with so many features that we have been advocating this tool for our clients since the day it came out!