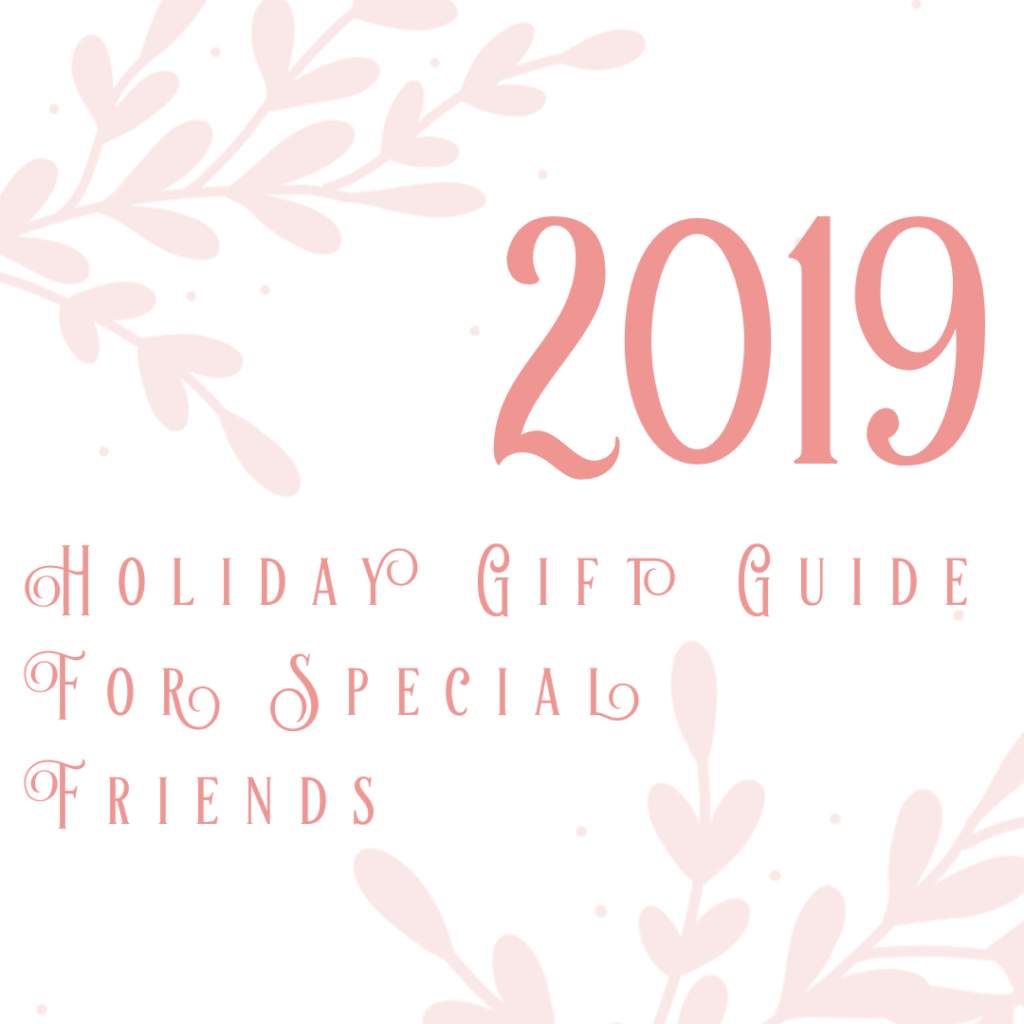 The holiday season is FINALLY here, Starbucks has had their holiday cups for almost two weeks at this point and Black Friday is coming up!

To make shopping a little bit easier, we have put together the ultimate gift guide that any speech- language pathologist would be proud of. These are great gifts to gift to your favorite little one or your favorite speech-language pathologist friend!
Door Frame Swing
Make your home sensory friendly in a snap with this door frame swing! This is similar to the pull-up bars that you can temporarily install in your house as it uses a tension rod to be hung! Swings are beneficial to calm some of the sensory system and are commonly found in physical and occupational therapy gyms. With this set, you can bring the gym to your house! This particular swing set comes with four different types of swings so brothers and sisters can use it. It fits perfectly in a New York City apartment!
Price: $157.97
Where to Buy: https://www.amazon.com/DreamGYM-Indoor-Trapeze-Therapy-Sensory/dp/B0782VPY97/ref=sr_1_2?keywords=Door+Frame+Swing&qid=1574612449&sr=8-2

Cotton Play Teepee
Cute cozy corner. This adorable teepee and also great for children to play and relax in. This item is best for younger children and it's going to be your new favorite place. It provides a quiet, safe and calm environment even in a tiny apartment, where noise and movement is everywhere.
Price: $39.99
Where to Buy: https://www.amazon.com/Sumbababy-Teepee-Natural-Outdoor-Playing/dp/B07VHHY396/ref=sr_1_15?keywords=tent+kids&qid=1574042964&sr=8-15

Switch Scissors
These scissors are perfect for all the holiday crafts! Making holiday cards for family and friends? Making snowflakes for your windows? Look no further than these Switch Adapted Scissors to create them! These scissors do not include a switch, which makes it easy to use a switch from other product so you don't have to buy another one!

Price: $69.95
Where to Buy: https://enablingdevices.com/product/adapted-battery-operated-scissors/ & Get a Switch: https://www.ablenetinc.com/technology/switches
Chewelry
Jewelry that you can chew! This "jewelry" is made out of silicone and can be used to give oral sensory input on the go! They also come in different cute shapes and sizes along with different strengths that provide different levels of sensory input. When choosing a chewelry item, you want to make sure you get the right type, depending on how you chew and how much you chew! Check out this guide to figure out which is better for your loved one: https://www.arktherapeutic.com/how-to-choose-the-right-chew/

Price: $12.99
Where to Buy: https://www.arktherapeutic.com/chewelry/?gclid=EAIaIQobChMIgZHr2tfq5QIVFaSzCh22bwUPEAAYASAAEgImS_D_BwE

Picasso Tile Piano
This little piano has the perfect songs for the perfect price! The demo songs are great to learn, but it also allows children to play their own songs and record them. It is extremely portable because the piano rolls up and can be easily put in a bag for easy travel. This is an early cause and effect toy, by providing immediate feedback for little ones growth.
Price: $34.98
Where to Buy: https://www.amazon.com/PicassoTiles-Educational-Electronic-Recording-Different/dp/B01LW5JG15/ref=asc_df_B01LW5JG15/?tag=hyprod-20&linkCode=df0&hvadid=309812383388&hvpos=1o1&hvnetw=g&hvrand=6952612151496487829&hvpone=&hvptwo=&hvqmt=&hvdev=c&hvdvcmdl=&hvlocint=&hvlocphy=9008336&hvtargid=pla-570389451744&psc=1

Robot LCD
This LCD board allows you to write and draw whatever you heart desires. This is great for long road trips or even when going out to eat! It even comes with a lock feature so you can be sure your drawing is saved. This can also be used to help those with low vision, or vision impairment as the neon colors draw attention to the screen. This is a great at showcasing salient features of objects. You are not going to just want to buy one of these!
Price: $16.99
Where to Buy: https://www.amazon.com/dp/B07L9RPLFJ/?ref=idea_lv_dp_ov_d

Bluebee Pal
These are adorable plush toys that can "hold" the iPad and move their mouth and body to model what is occurring on the iPad. Each plush and interactive toy comes with an app that can be used on both Apple and Android devices. It also can be used as an interface for phone calls, and will "talk out" the call on the other line. The toy is compatible with all AAC, Youtube, Storybooks and other educational apps and has a battery life that lasts for four hours! This gift would be ideal for those ages Pre K to grade 3 and those using an AAC device or application. It even has a fun feature that reminds you to charge it so you are never without your new best friend.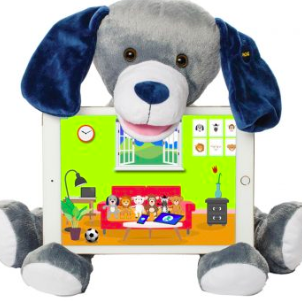 Price: $79.99
Where to Buy: https://www.bluebeepals.com/store/ and checkout all the apps they curated by category on the site!
Pantone Box of Color
The cutest and most on-trend books that you will find. They may even desire an Instagram photoshoot. This bundle comes with six adorable books in six different colors with images and text to match. The images in the story books are engaging and your little ones will love looking at all the pictures by modeling one color at a time. This is a great 3D book to learn colors, learning simple images, and is small enough to put in a clutch.
Price: $11.42
Where to Buy: https://www.amazon.com/dp/1419704192/?ref=idea_lv_dp_ov_d

Spin & Splatter
One of the most timeless gifts becomes switch adapted! The same fun that you had, but now even more accessible and more fun! It makes art 100% independent. Use partner assisted scanning to select the colors and let the child start and stop the spinner as they wish. This toy will give you all the nostalgic feels. Creative is endless this timeless toy. The switch is not included, just make sure you have one to connect it. There are several sites to purchase this on, so check around!
Price: $24.99
Where to Buy: https://www.amazon.com/dp/B07RSCPTCW/?ref=idea_lv_dp_ov_d

Bubble Machine
Bubbles, simple fun. This machine does all the work for you for hours of bubble popping. Elicit language and actions by describing bubbles and using them as a reward during learning and play.
Price: $12.00
Where to Buy: https://www.amazon.com/dp/B07MTXY67S/?ref=idea_lv_dp_ov_d

Oculus VR
A new way to watch TV, this virtual reality headset brings everything to life. Better for older children and adults, but could be fun for the whole family! It's wireless, so don't worry about the wires around your head and it comes with it's own matching application! How about those kids who never get to experience going on a roller coaster, or want to explore the Great Barrier reef? This brings that to the child.. mind blowing for sure.
Price: $199
Where to Buy: https://www.amazon.com/dp/B076CWS8C6/ref=cm_gf_atn_iaaa_d_p0_c0_qd0__________________nCm6ctDrLq9uuKDvmQ0F?th=1

Lite-Brite
Another nostalgic item here. A true classic, this never gets old. Create the best designs and now they even come with more templates that you can buy to keep the play alive. This is great for fine motor skills, vision impairment and artistic creations. You can glue several pieces together, for those kids who have trouble grasping tiny pieces.
Price: $14.97
Where to Buy: https://www.amazon.com/dp/B01N6B8SX0/ref=cm_gf_atn_iaaa_d_p0_c0_qd0__________________IjyQLilKzHXBV1gh648j
Happy Holidays!!!